I came across this picture this morning and it truly spoke to me.

So often in life we close our minds to new experiences that may benefit us.

Something like yoga, a seemingly outside the box practice, way of doing something we have always done the only way we felt comfortable....and so on.

In doing this we close off the possibility of gaining a new experience or insight.

So today I say: "Oil up that tinman in you and try something new and different! Get out of your own way and dont be a rusty old tinman!"

Powered by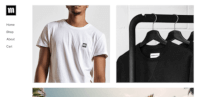 Create your own unique website with customizable templates.